Challenge

In 2001, powerful water marketer T. Boone Pickens and his Mesa Water company asked the Panhandle Groundwater Conservation District for permits to pump water from the Ogallala Aquifer – with the intent of selling it to large cities in Texas. At that time the district – one of the oldest in Texas – was proposing new restrictions on groundwater pumping to slow depletion of the aquifer. Pickens allied with local landowners to gain rights to 320,000 acre-feet, or 104 million gallons, of groundwater.
---
Solution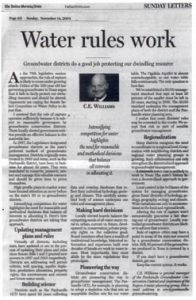 LRPR developed a comprehensive communications campaign to win support from constituents, including Pickens and his allies, for the new rules which would restrict groundwater production. The campaign included media and presentation training for district staff and board members; planning for public meetings; news releases and media relations; presentations; and other communications materials.
Outcome
The so-called Depletion Rule was adopted with widespread support from constituents — including Pickens who had originally opposed it.